Jamie Santellano Set to Release Her Signature Jewelry Collection on Feb. 12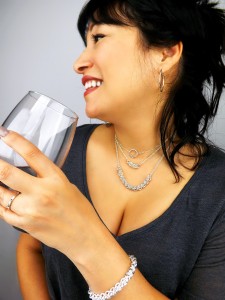 This new handmade collection of sterling silver jewelry was created with the busy career woman in mind.
Los Angeles, CA, February 8, 2018 (Newswire.com) – Silversmith Jamie Santellano is releasing her brand-new Signature Jewelry Collection on February 12, 2018. This jewelry collection is ideal for women who want a personal connection and versatile enough for the busy career woman. The designs range from simple to more ornate. Some are sophisticated while others are a little more playful.
"I'm happy to announce that my new collection will be released this month," says Santellano. "I'm a silversmith and create my designs with Old World craftsmanship. This allows me to make the jewelry by hand and custom fit for my clients. My designs are inspired by my travels around Europe, including in England, Ireland, and Italy.
Clients can order jewelry directly from Santellano's website. Because the jewelry is handmade and custom fit for each client, it is made to order. Santellano was inspired to create this collection while traveling in Europe. On a recent trip, Santellano was in awe of the old streets in Europe and seeing the old structures and the stories they could tell.
On the last day of the trip, she was in Ireland out for a walk. Santellano was in the mood to explore and ended up in the woods. Her muses began to kick in as she saw the bark on the old trees and intertwining vines. It gave her so many ideas. Santellano knew she had to capture these textures in her signature collection.
"Since much of my training comes from silversmithing, I have a passion for hammered textures," explains Santellano. "In order to capture the textures of bark from the forest, I've used various hammering techniques. My clients will also be able to recognize some cylindrical shapes in some of my pieces that are inspired by tall round towers from Glendalough."
To learn more about Santellano and see her new Signature Jewelry Collection or to place an order, visit JamieSantellano.com.
About Jamie Santellano
Silversmith Jamie Santellano creates luxurious jewelry ideal for stylish women that crave personal connection and originality. To learn more, visit JamieSantellano.com.
Source: Jamie Santellano
Media contact Jamie Santellano at info@jamiesantellano.com or by phone at 661-373-6820 for interviews, samples, or additional photos.
SILVERSMITH COMBINES OLD WORLD CRAFTSMANSHIP & MODERN JEWELRY FOR WEARABLE ART
SILVERSMITH COMBINES OLD WORLD CRAFTSMANSHIP & MODERN JEWELRY FOR WEARABLE ART
Jamie Santellano, trained in Irish Silversmithing, creates modern sterling silver jewelry with an old-world twist in her 10 piece Santellano Collection launching this November.
16 NOVEMBER 2016 | LOS ANGELES, CA
Santellano began her journey with metal work in 2006 when she traveled to southeast Ireland's prestigious Brian Clarke School of Silversmithing. She received certifications in various Silversmithing techniques and developed a love for the old-world craftsmanship she's become known for. Following her extensive training, Santellano returned to Los Angeles where she worked with JR Jewelry Designs with 40 years of jewelry design experience to further develop her skills. Then, in the Fall of 2010, Santellano's incredible handmade jewelry was featured in Art Jewelry Magazine as an exclusive five page spread. Now, armed with her skills and a clear passion for old-world jewelry creation, the Jamie Santellano brand is launching the 10 piece Santellano Collection this 21 November.
Check out what one of Santellano's beta-customers had to say:
"I asked [Jamie] about creating a special bracelet for me.  I wanted a Fleur de Lis incorporated into the design, but I'm very picky about the style. Jamie came back with a fantastic design that used exactly the style I prefer. She had wonderful ideas to really make the piece eye-catching and interesting. When I received the bracelet, it was even more beautiful and stunning than I'd imagined! It fits me perfectly, both style- and size-wise. I also love that it's signed and dated—the uniqueness of the piece, the design and work that went into it make it very special to me. I couldn't be happier with it."
Robin, Oregon | Verified Customer
The Santellano Collection.  
The Santellano Collection, available with variations, will feature:
Fiona Choker Necklace In Sterling Silver

: a hammered texture, circle pendent. Daringly minimalist.

Chiara Stackable Rings In Sterling Silver

: three bands in a contrasting hammered texture. A set like no other.  

Wicklow Ring In Sterling Silver

: a wide banded ring with hammered surface. Timelessly sophisticated.

Ophelia Necklace In Sterling Silver

: three silver rings in interwoven designs. Enchantingly old-world.
Mia Choker Necklace In Sterling Silver

: a Celtic knotwork inspired chain. Beautifully crafted.
I hold a strong belief in my heart, and I've often told my daughter, to find something to be passionate about and be good at it. If I'm going to work long hours it should be doing something I love, and it will speak through my work. Working in metal speaks to me. It feels good to work in it. It's like a symphony between myself and the work at hand. I've always said, "my hands become the tools."
Jamie Santellano | Expert Craftsman & Silversmith
To learn more about the Jamie Santellano brand and the Silversmith behind the creation, visit www.jamiesantellano.com.
Follow the brand at:
Youtube: http://bit.ly/2frc6iA
Twitter: https://twitter.com/jamiesantellano
Facebook: https://www.facebook.com/jamiesantellanoart/
Instagram: https://www.instagram.com/jamiesantellano/  
Jamie Santellano – The Santellano Collection – Making Fine Art Wearable
Notes to editors
Media contact Jamie Santellano at info@jamiesantellano.com or by phone at 661-373-6820 for interviews, samples, or additional photos.